Customized 380V air duct heater with sheath
Product Detail
Product Tags
Air Duct Heater is mainly used for heating the air in the air duct. The common thing in the structure is that the steel plate is used to support the electric heating tube to reduce the vibration of the electric heating tube, and it is installed in the junction box. There is an over-temperature control device. In addition to the over-temperature protection in terms of control, an intermodal device is also installed between the fan and the heater to ensure that the electric heater must be started after the fan is started, and a differential pressure device must be added before and after the heater to prevent the fan failure, the gas pressure heated by the channel heater should generally not exceed 0.3Kg/cm2. If you need to exceed the above pressure, please use a circulating electric heater.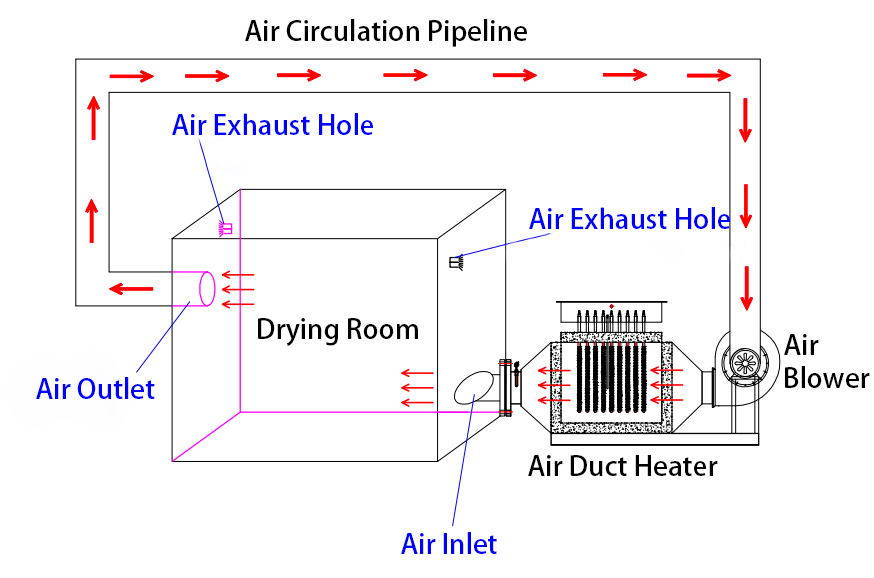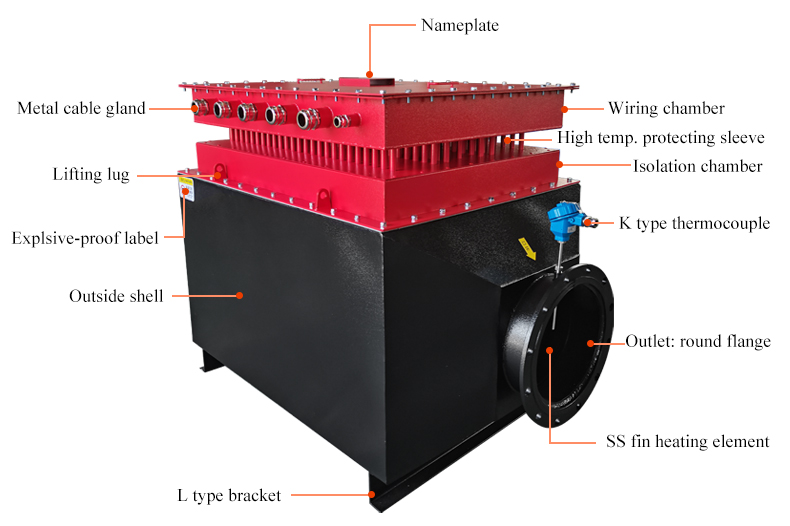 Technical specifications

Model 

Power(KW)

Size of Heating Romm(L* W* H, mm)

Outlet Diameter

Power of Blower

SOLID-FD-10

10

300*300*300

DN100

0.37KW

SOLID-FD-20

20

500*300*400

DN200

SOLID-FD-30

30

400*400*400

DN300

0.75KW

SOLID-FD-40

40

500*400*400

DN300

SOLID-FD-50

50

600*400*400

DN350

1.1KW

SOLID-FD-60

60

700*400*400

DN350

1.5KW

SOLID-FD-80

80

700*500*500

DN350

2.2KW

SOLID-FD-100

100

900*400*500

DN350

3KW-2

SOLID-FD-120

120

1000*400*500

DN350

5.5KW-2

SOLID-FD-150

150

700*750*500

DN400

SOLID-FD-180

180

800*750*500

DN400

7.5KW-2

SOLID-FD-200

200

800*750*600

DN450

SOLID-FD-250

250

1000*750*600

DN500

15KW

SOLID-FD-300

300

1200*750*600

DN500

SOLID-FD-350

350

1000*800*900

DN500

15KW-2

SOLID-FD-420

420

1200*800*900

DN500

SOLID-FD-480

480

1400*800*900

DN500

SOLID-FD-600

600

1600*1000*1000

DN600

18.5KW-2

SOLID-FD-800

800

1800*1000*1000

DN600

SOLID-FD-1000

1000

2000*1000*1000

DN600

30KW-2
Air duct heaters are widely used in drying rooms, spray booth, plant heating, cotton drying, air-conditioning auxiliary heating, environmentally friendly waste gas treatment, greenhouse vegetable growing and other fields.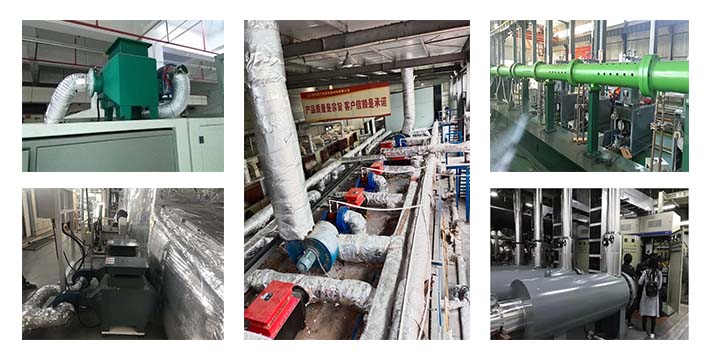 Jiangsu Yanyan Industries Co.,Ltd is a comprehensive high-tech enterprise focusing on design, production and sales for electric heating equipments and heating elements, which is located on Yancheng City, Jiangsu Province, China. For a long time, the company is specialized on supplying the superior technical solution, our products have been export to many countries, we have clients in more than 30 countries all over the world.
The company has always attached great importance to the early research and development of products and quality control during the production process. We has a group of R&D, production and quality control teams with rich experience in electrothermal machinery manufacturing.
We warmly welcome domestic and foreign manufacturers and friends to come to visit, guide and have business negotiation!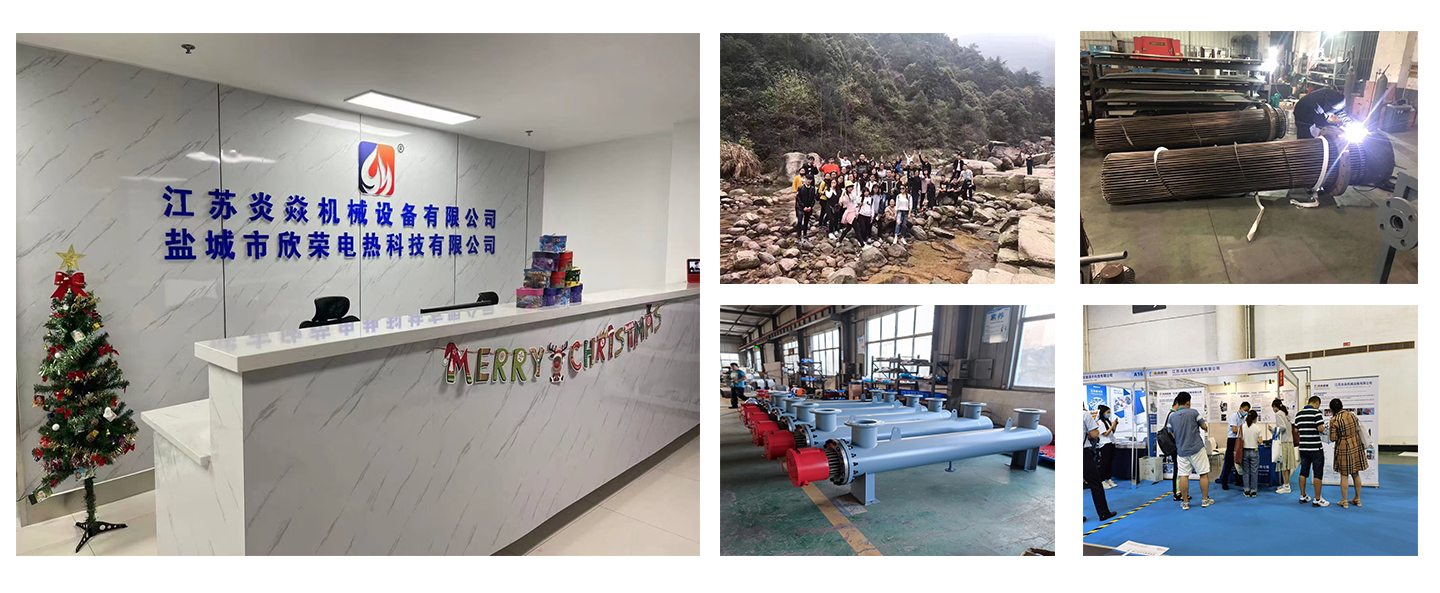 1. Q: Are you a factory or trading company?
A: Yes, we are a factory and have 10 production lines.
2. Q: What's the shipping method?
A: International express and sea transportation, depend on customers.
3. Q: Can I use my own forwarder?
A: Yes, if you have your own forwarder in Shanghai, you can let your forwarder ship the products for you.
4. Q: What's the Payment method?
A: T/T with 30% deposit, balance before the delivery. We suggest transferring at one time to reduce the bank process fee.
5. Q: What's the payment term?
A: We can accept the payment by T/T, Ali Online, Paypal, Credit card and W/U.
6. Q: Can we print our own brand?
A: Yes, Of course. It will be our pleasure to be one your good OEM manufacturer in China.
7. Q: How to Place an order?
A: Please kindly send us your order by email, we will confirm the PI with you.
Please advise these info is you have: address, phone/fax number, destination, transportation way; Product information like size, quantity, logo, etc.
---
---
Write your message here and send it to us